LivePlan – a cloud based solution providing a simple financial dashboard that helps your business grow!
You can set up and use LivePlan yourself but using an Expert Advisor such as Denise will save you time.  It is a powerful package and it helps to have a little guidance on where to start and what the features will do for you.  https://www.liveplan.com/advisors/profile/?accid=67
As an owner and a leader – You require timely, up-to-date information to make the right decisions and drive your business toward profit
For any organziation to succeed, you need to know your goals and see your progress in real-time with as much automation as possible. LivePlan's business dashboard gives you the insights you need in a format that's simple to understand, yet has the power you need. Connect your QuickBooks Online and you'll get instant insights into your business. (Note:  You may also enter your data manually or sync with Xero).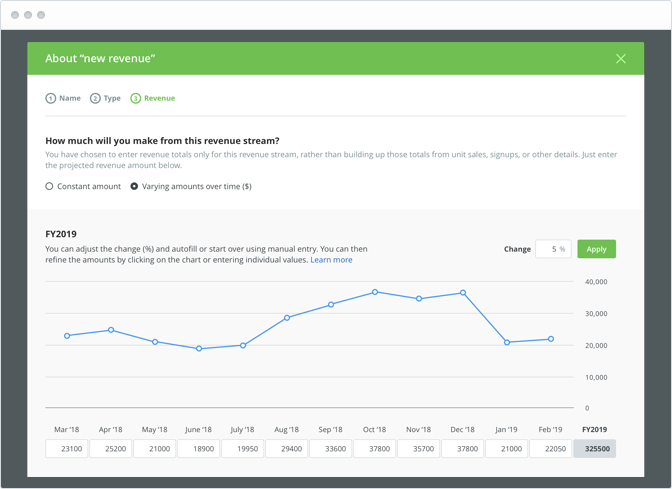 Budgeting and forecasting made easy
LivePlan takes the pain out of your budgeting and forecasting process. If you're already using  a compatible accounting software, just import your accounting data and apply growth rates or tweak the numbers manually — you'll have a complete forecast and budget in no time. No accounting system? No problem. You can always create your forecast manually, too.
Reach your goals faster by tracking your progress
Companies grow 30 percent faster when they track their progress towards their financial goals. With LivePlan's Dashboard, you get a simple way to do just this. You can easily monitor your revenue, scrutinize your expenses, and make adjustments to ensure you reach your goals.
https://www.liveplan.com/features/business-dashboard#dashboards-progress
Business dashboards in minutes
We know you'd rather be working to hit your goals than setting up your dashboards. The LivePlan Dashboard connects directly with your accounting software (QuickBooks and Xero) and sets up your business dashboard automatically – no customization or coding required.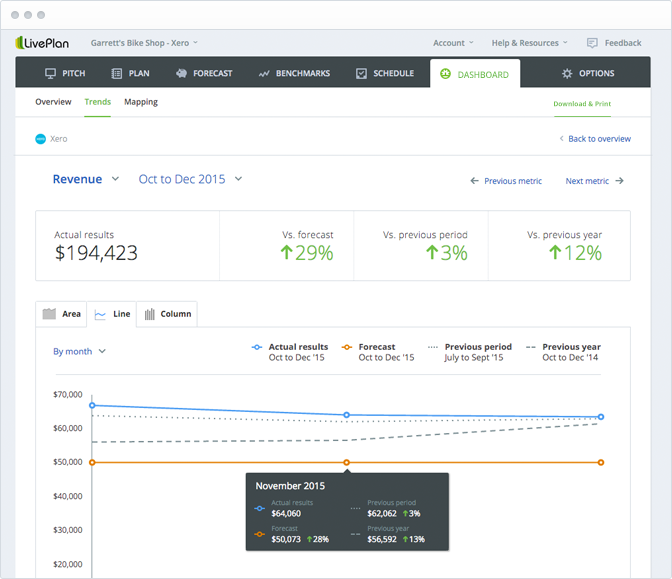 Make sense of the numbers without using spreadsheets
Using spreadsheets to analyze your financials is painful—it often requires building complex pivot tables or toggling between multiple documents. But with the LivePlan Dashboard, you can quickly build visual reports and summaries that show what your financial data really means—all without spreadsheets.
Beautiful PDF reports for printing and sharing
Skip the standard, boring "just numbers" reports that you get from your accounting package. Instead, use the LivePlan Dashboard to download and print impressive, colorful visual reports including charts and graphs that will keep your audience engaged at a push of a button to share financial reports with investors, a board of directors, or a management team.
Life is a constant change and LivePlan offers the ability to Explore & Save multiple opportunities with "scenarios" Forecasts
LivePlan lets you easily explore different situations with financial scenarios. Create scenarios for different ideas and then see how that impacts your numbers. What would happen if you hired more employees? What if sales are better than expected?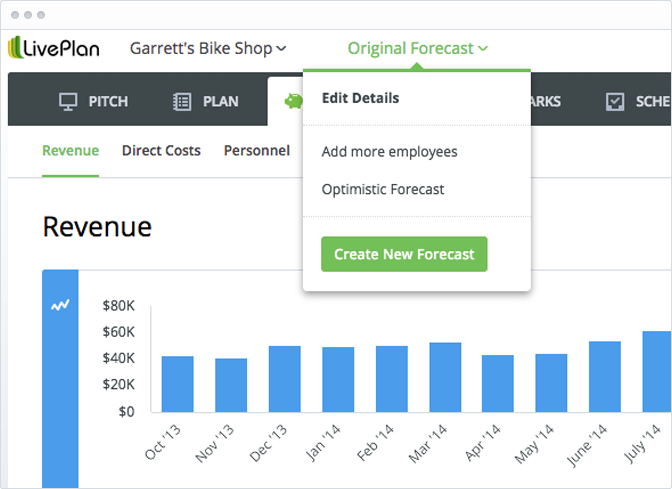 Your accounting data is imported automatically
It takes just minutes to setup your LivePlan Dashboard and sync to Quickbooks to add your actual results into your LivePlan cloud based account. No manually typing in information—all the data is imported directly into LivePlan and then displayed as easy-to-follow charts and graphs. Additionally, as your financial information changes – the sync with LivePlan updates yours reports automatically, too!
LivePlan Resources
LivePlan Example Garrett's Bike Shop
---
Source: Special thanks to my friends at LivePlan for sharing this information and examples with me. https://www.liveplan.com/features/business-dashboard